One Last Shot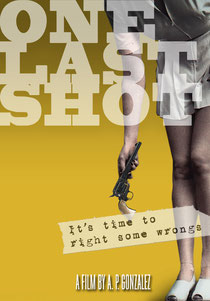 Synopsis
Briscoe, Arizona circa 1950. In a town caught between a bygone era and post WW II America, one side of a long-standing family feud has claimed its worst victory yet. Brothers, DAVEY and JOHN McCAULIFF, have been viciously slain by the STILLS BROTHERS, a motley crew of malevolent holdovers from the days of Billy the Kid.
Returning home from a self-imposed exile, HATTIE McCAULIFF must face the town she learned to hate and raise her unwilling nephew, JACK, against huge odds. She finds a 14 year-old boy torn between his adult rage and pubescent fears, an adolescent vying for revenge. Hattie, now Jack's only living relative, must teach young Jack that violence is not the way to settle disputes.
Though strong and independent, Hattie is faced with a large house, acres of farm, land and a confused boy who admittedly needs more than a "mother." Not exactly the ideal farmhand, Hattie hires a young, handsome Latino, RICK MORAGA, to help with the chores. Her only stipulations are: no drinking, no smoking and no guns.
Rick quickly becomes Jack's role model, and Jack is instantly enamored with a "real cowboy" like Rick. However, Hattie is suspicious of Rick and watches every move he makes. The thing is, Rick looks good with his shirt off; and there is something boyishly charming about him. Not only is Rick younger than Hattie, but also his background is Mexican. In the conservative southwest of 1950, an intimate relationship between them is taboo. Hattie resists her attraction to Rick, making rearing Jack her foremost concern. Unfortunately Hattie's pacifist beliefs and authoritarian style push young Jack away.
Rick tries to intervene for the good, but Hattie won't admit her feelings for him let alone his advice on raising a teen. Besides, young Jack's got gunslinging in his blood! The price: Jack identifies more with his grandfather's 19th century gunslinging than with Hattie's progressive, mid-20th century values. During a town picnic, young Jack decides to end the Stills Brothers' murderous threats in order to protect himself and his aunt – like a "real man" should.
To save the life of her nephew and to ensure the survival of her new family, Hattie succumbs to her greatest fear. A confrontation ensues, and two Stills Brothers are left dead. The third brother, NATE STILLS, causes a shootout in the hills. In the end, the cycle of violence is finally over; and the gun is buried for good. Together with Rick's influence, Hattie and Jack discover that their need for one another is stronger than their hate of the past.